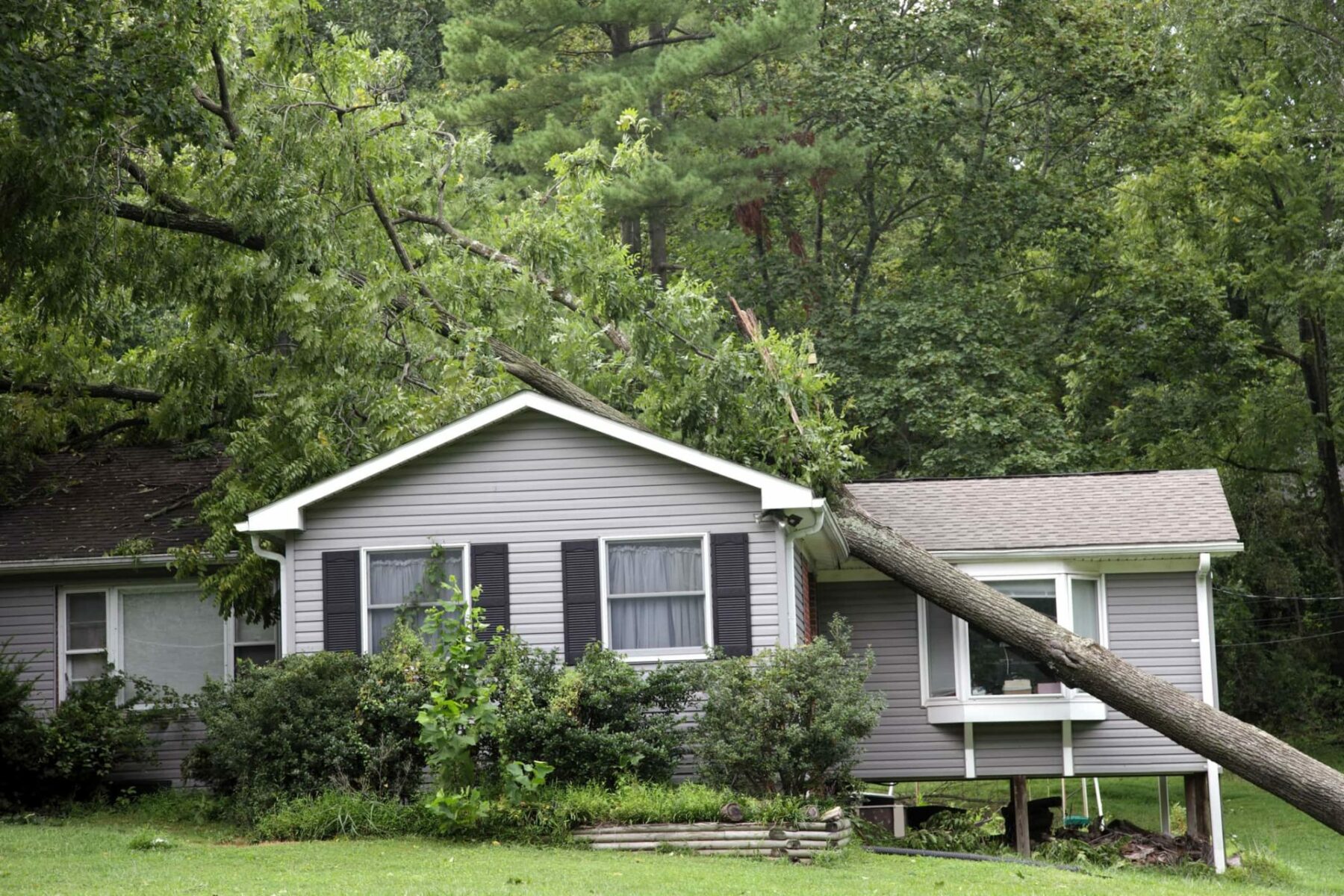 Wind & Storm Damage Restoration
Even a single tree can fall on your home unexpectedly causing serious damage to your property. Tree damage may be caused by severe wind, storm, lighting or gradual weakening of the root system. No matter the cause, tree removal, and tree damage restoration should be carried out quickly and safely.
All Restored, Inc. is a certified tree damage restoration company ready to restore your home or business to the pre-damage condition 24/7. We safely remove the fallen trees, clean up debris, and repair any damage caused by fallen trees, wind or storm. Call us today for free storm and tree damage inspection.
A Tree Falls on Your Home: What to do?
Evacuate Immediately
If you are on the second or third floor, get down and leave the house.

If the main exit is blocked by debris, leave the house through the yard exit or a window.

If you cannot safely evacuate on your own, call emergency services.
Watch for fallen power lines and wires
If power lines and wires are down due to the storm damage, call the police and contact the power company. 

Do not approach the area and do not try to remove trees or debris that have fallen on power lines on your own.
Call your insurance company
Notify your insurance company about the damage and ask if your insurance covers storm, wind and tree damage.

Takes photos of any damage.
Contact a tree damage restoration company
Call a storm restoration company as soon as possible.

Have experts inspect your home for safety concerns.

Have emergency board up and roof tarping if necessary.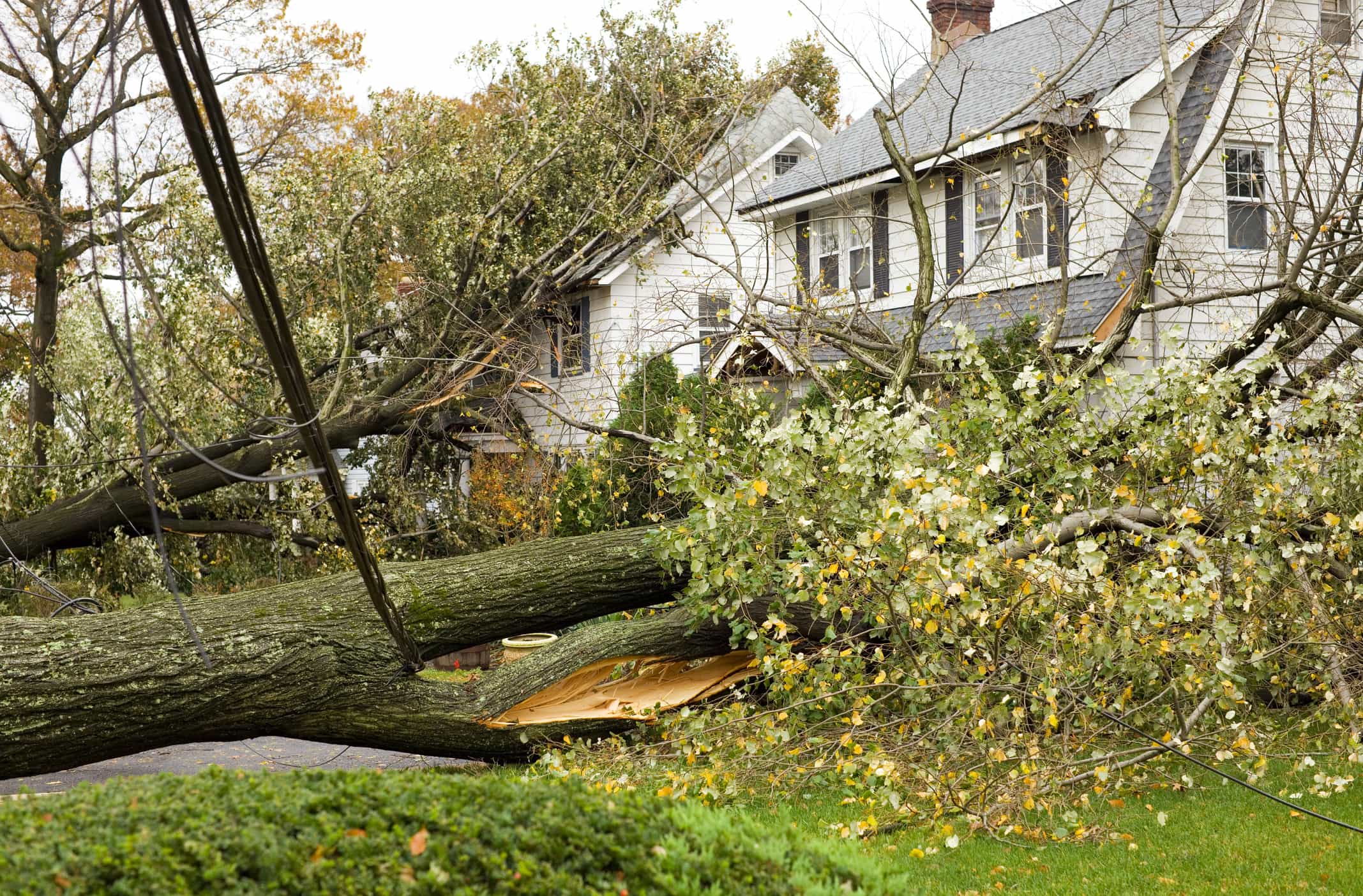 Why Hire Us for Tree Damage Cleanup
Trusted & Experienced
We have been working in the restoration business for 20 years.  If a fallen tree or weather cause additional water damage or a fire, we can quickly address it too.
Reliable & Fully Insured
Working on the site and roof repairs are always dangerous. Thus, choosing a contractor for tree and storm damage restoration, it is important that all members of the team are insured.
Experts in Repairs
All Restored, Inc. professionals do not only remove the fallen tree trunks but carry our repair of any complexity to restore homes and yards to the pre-damage conditions.
Satisfaction Guaranteed
We guarantee that all restoration works are completed to the highest satisfaction of our customers. We help customers document the damage and bill directly to insurance companies. "The best experience I could possibly hope for during after a tree fell on my home. All Restored responded immediately, found me, someone, to help remove the tree and they handled all the repairs."
"Highly recommend calling All Restored for your restoration needs. They showed up the same day to tarp my roof after a tree fell on it."
Is Tree Damage Covered by Insurance?
Insurance policies vary in limits and policy coverages, so you need to read your policy closely to know for sure. As a common rule, home policies include sudden risks and perils, lightning and thunderstorm being among them. Thus, if a tree damages your house after it is uprooted by a severe wind or struck by a lightning, your damages will be compensated.
At the same time, if tree damage was caused by a gradual process, for example, a tree grows into your plumbing, it may be not covered by insurance. If an arborist recommended to treat or remove the tree or a council issued a respective order, but you did not act upon it, you will be left without compensation too. What is more, if your hazardous tree falls on the neighbor's house, you may be even held liable.    
These three tips will always help minimize the losses due to a tree damage:
Know your rights and make timely claims
Check the extend and conditions of your coverage to make timely insurance claims in case of emergency.
Refuse from do it yourself approach
Repairing tree damage may be more dangerous than it seems. Getting hurt might cost you more than saved restoration costs. 
Prevent possible tree damage
Do not wait for tree damage to happen – check the health of the trees growing next to your house and trim branches hanging over your house and power lines.
(302) 697-7810
Call Us Now To Schedule Wind, Storm or Tree Damage Repair