Mold Removal
All Restored, Inc. are experts in mold removal and remediation
We tackle any type of mold and its causes 24/7
Call Now
Schedule Inspection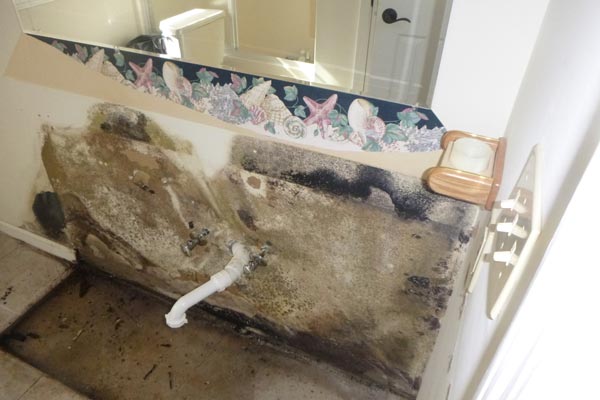 Mold Removal and Remediation Services
Once mold has a water source and food to grow on (for example, a wallpaper, drywall or carpets), mold quickly grows into colonies. Thus, mold colonies start damaging your property and harming your health with the dangerous toxins they produce. Since mold needs just 24-48 hours to infest your home, it is important to have professional mold removal and remediation as soon as possible.
If you suspect a mold problem in your home or business, trained technicians from All Restored, Inc. will inspect your property and determine the extent of mold contamination. If mold is detected, we will safely remove the mold using the industry standards and state-of-art equipment for you to breathe quality indoor air again.
Inspection and Assessment
Mold removal and remediation experts have to identify all areas contaminated with mold.
Mold restoration technicians have to find the source of the moisture that started the mold growth and fix the issue. Afterwards, develop an effective water and mold remediation plan.
Prevention of Mold Spreading
The contaminated area should be isolated with the help of polyethylene sheeting, zip wall poles and zipper openings used to enter the contained area.
Mold removal area should be sprayed with anti-microbial spray to assist in preventing future mold growth.
Removal of Mold-Affected Materials
Porous materials damaged by mold should be removed.
To dispose of the removed materials, place them into 6 mil thick plastic bags, tie close the bags carefully.
Cleaning and Disinfection
Air is cleaned with HEPA air scrubbers,
Walls and materials are cleaned with HEPA vacuums, detergent solutions, and wipes following specific IICRC recommendations.
In many cases, it is also recommended to clean HVAC system that can transport mold throughout the building.

All cleaned materials are fully dried to prevent further mold problem.
Testing
When the mold remediation project is completed, it is important to carry out mold and air quality testing again to make sure the problem has been fully addressed and the building is safe to occupy.
Renovation
All Restored, Inc. professionals replace all the removed materials returning your home or business to its best condition.
Your Best Contractor for Mold Remediation
Trusted & Experienced
All Restored, Inc. have 20 years of experience in mold removal and mitigation. Please see the feedback of happy customers who entrusted mold remediation in their homes and business to our experts.
Licensed & Trained
Mold should be removed following strict guidelines and safety measures. All our technicians are licensed and trained to adhere to mold removal and water damage restoration industry standards.
Professional Equipment
We use all the necessary professional equipment for effective mold removal and mitigation. We contain the area to prevent any spread of the disturbed mold.  
Effectiveness Guaranteed
We test for mold and assess air quality before and after the mold mitigation project to confirm the effectiveness of mold removal efforts. In addition, we provide water damage restoration to prevent further mold growth. "I had a moisture issue in my home that was causing some mold to grow on my furniture in my home. I didn't know where the moisture was coming from but All Restored was able to help me find it, stop the problem and clean up the mold."
"Found mold in my basement and All Restored was able to help with the testing and cleanup process."
Mold Removal Services Include:
(302) 697-7810
Call Us Now To Schedule A Free Mold Inspection